When it comes to physical fitness and achieving your health objectives, the terms "exercising" and "training" are often used interchangeably. There is, however, a subtle yet significant difference between the two. Accepting this disparity can help propel you closer to your health and fitness aspirations. Delve into the dissimilarities between exercising and training to better understand why this distinction matters and what it means to you.
Exercise: The Act of Physical Activity
Exercise encompasses any form of physical activity performed to enhance overall fitness levels, burn calories, or move your body. Common exercise activities include running, hiking, cycling, or attending fitness classes.
The term "workout" is used in both exercise and training to denote a scheduled event that produces physical stress. Exercise and training both utilize workouts, but the intention behind them is fundamental to the difference we are discussing.
Exercising is characterized by a more spontaneous and casual approach. While it undoubtedly yields numerous health benefits, it lacks the strategic intent and specific objectives associated with training.
Training: Purposeful Pursuit of Objectives
Training, on the other hand, embodies a more structured and objective approach to physical activity. It involves a systematic and progressive plan which aims to measurably improve performance, develop specific skills, or achieve predetermined targets. While athletes may engage in a training program for performance enhancement, a progressive program is beneficial to maintaining and developing the specific attributes that lead to a long, healthy, and active life.
As humans, we are like athletes in the decathlon of life. We all need sufficient strength, mobility, muscle mass, and cardiovascular output to be healthy and thriving. An unfortunate side effect of aging is that the rate of decline in these areas increases. The need for a training program is further justified because of this fact. It will provide us the opportunity to hedge the odds in favor of twilight years defined by energy and vitality. 
You might ask "can't I just exercise to gain strength and muscle?". You definitely can, however this approach is inefficient. The elongated timeline to achieving measurable results often leads to a loss of motivation which in turn translates to a drop off in consistency. Training programs can be utilized to deliberately improve these qualities with proper exercise selection, intensity, sets, reps and more. Properly managing these variables is key to ensuring the minimum effective dose of stress our bodies need to develop. An understanding of some basic physiological principles helps make the case for training programs.
The basis of training is the stress/recovery/adaptation cycle, which can be found in all organisms' relationship to their environment. When a specific demand or stress is imposed on the body, the body responds by adapting and making physiological changes that better prepare the body to deal with that same stress in the future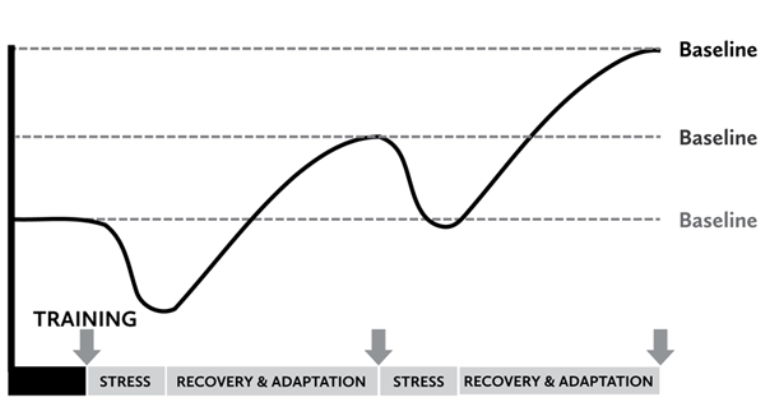 One of the most important attributes of training versus exercise is that the physiological adaptations can be quantified – measured with an objective metric and compared against pre-adapted baseline levels. Without objective metrics and data, it is nearly impossible to judge the effectiveness and efficiency of a given program. 
Key Differences: 
1. Clear Objectives
 Without specific objectives, exercising can lead to plateaus in fitness and a subsequent drop in motivation. Many will turn to the latest fitness fad or exercise program to try and break through the proverbial brick wall, only to get caught in a cycle of random workouts and activities. 
2. Structure and Planning 
A training plan will often be periodized, meaning there is planned manipulation of training variables (loads, sets, reps, intensity) in order to maximize adaptations and prevent the onset of overtraining syndrome. This doesn't mean that every training plan should be periodized, rather that failing to plan is planning to fail. The specific intention of the training plan, whether that's to gain strength, endurance or muscle (just to name a few) will dictate the details of the plan. 
3. Intensity and Focus
Knowing the proper intensity to train at depends on the desired objective, experience level, current health and many other factors. Without sufficient intensity, your body will not be stressed enough to cause any significant physiological adaptations. Too much intensity too soon and you risk overtraining or injury. 
4. Measurement and Progress Tracking 
Accurate recording of weights, sets, reps and intensity can be tedious, but it is absolutely essential for making continued progress. Every week is a chance to improve and when you see that progress it's very motivating. 
5. Accountability (From a coach or program) 
When aided by an expert coach, a thoughtful training plan factors in the trainee's reality, lifestyle factors and stress levels to help reduce the potential for overtraining and optimize recovery. Besides saving you the significant amount of time it takes to create a proper training program for your objectives, a good coach can tie together all of the above into a program that delivers great results safely and efficiently, while including enough novelty and variety to keep motivation high. 
The Distinction Matters
Understanding the difference between exercising and training is crucial for optimizing your health and progressing along your fitness journey. Determining the most suitable approach is predicated on a definition of your objectives and an understanding of your level of commitment to reaching them. 
We understand that the most difficult part is often choosing your main objective. With so many unknown variables – how long it will take to see results, scheduling time to train, equipment availability, it can be difficult to narrow things down. Choose just one or two objectives to start with to increase the likelihood of adhering to the program. 
It is important to recognize that success in training comes from enjoying the process. When you enjoy the process, you make it a part of your lifestyle and mindset, which is key for getting through the rough patches you will undoubtedly experience. 
As you immerse yourself in the process, your self-esteem and identity will be positively impacted as well. You won't be someone who just exercises without necessarily making a commitment. You will be someone who trains hard for a lifetime of health and longevity so that you can have the energy and strength to tackle whatever life throws at you. This mindset is infinitely more rewarding and satisfying, especially when it influences loved ones to follow your lead.  
Conclusion
While exercising and training both contribute to improved health outcomes, when we prioritize training, we are making a commitment to improving ourselves, instead of merely checking a box. Your time is valuable which is why making every movement and exercise count with the right intention matters. Training and aging are both processes that are a culmination of a lifetime of choices. By making the right choices we can literally reverse the aging process and set ourselves up for a long and healthy life. Through the mindset of training, we get to know our strengths and weaknesses, seek small wins along the way while also looking, feeling and performing your best. Training is a lifestyle and when you derive satisfaction from achieving an objective, it makes the hard work and commitment worth it.