Check out our very own Danielle, featured in USA Weightlifting's Athlete Spotlight.  Good luck to Danielle as she competes this week in Mobile, Alabama.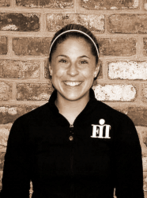 Name: Danielle Durante
Team: FIT BBC
Coach: Rob Earwicker
Hometown: El Dorado Hills, CA
Current Residence: Los Altos, CA
Birthdate: 10/1/1982
Weight class: 53kg
Height: 4'11"
What year did you begin lifting? 2003; serious training started in 2007
How did you get involved? While going to school at California State University, Sacramento I was introduced by Phil Alexander.
Favorite Competition Lift?  Snatch
Favorite Training Lift? Jerks from rack
Education: B.S. Kinesiology, Exercise Science
Personal Goals: make the Olympic Trials, be part of a World team.
Favorite Foods (I added the s): rigatoni and meatballs, deep dish pizza, and homemade Nachos.
Favorite Book: The Notebook, by Nicholas Sparks, It's Not About the Bike, My Journey Back to Life, by Lance Armstrong.
Favorite TV Show: 24, Greys Anatomy, Castle, Diners, Drive-Ins, and Dives, Restaurant: Impossible
Favorite song that gets you motivated: Poker Face, Lady Gaga
Hobbies/Interested outside of Weightlifting: Gymnastics, cheerleading, and hiking.
Most people don't know that….

I'm on a mission to find the best:
-Cup of Coffee
-Chocolate Chip Cookie
-Plate of Nachos

I love fishing, especially with my family at Lake Shasta.  I love dancing and making room on the dance floor.  I enjoy going to Farmers Markets and making my own salsa. I have a sick, twisted sense of humor usually involving Adam Sandler and/or Ben Stiller.  I am a personal trainer at the gym I lift at.  I was born in Texas.  I love to sing on the top of my lungs.