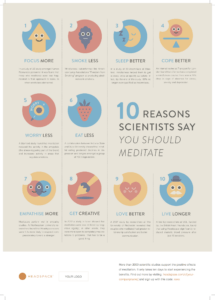 Imagine, 10 minutes of no buzzing phone, no place to be and nothing to do besides sit peacefully with yourself. Sounds out of this world, right? With just the click of a button you can have it all. Headspace is a mindfulness meditation app that has offered millions of people a peaceful moment to themselves helping them become less stressed, more patient with others, and more in tune with their body.

Mindfulness meditation is a Buddhist traditional practice that attempts to help us become more aware of our lives by learning to appreciate and seize every moment. Helping to provide nonjudgmental attention to the details of our experiences, this practice teaches us to enjoy and be present in the moments that make up our day to day lives.  Developing calmness and clarity by bringing attention and awareness to our thoughts and body not only boost mental health but physical health as well.

Headspace offers a series of mediations packs to choose from. The first initial pack, Take 10, teaches the importance of meditation and how to meditate in 10 minute segments. Duration increases in the two subsequent ten session blocks – like any exercise program, headspace progresses as your strength/ability grows.  There are also packs to choose from depending on what your focus and intention is; relationships, motivation, performance and more.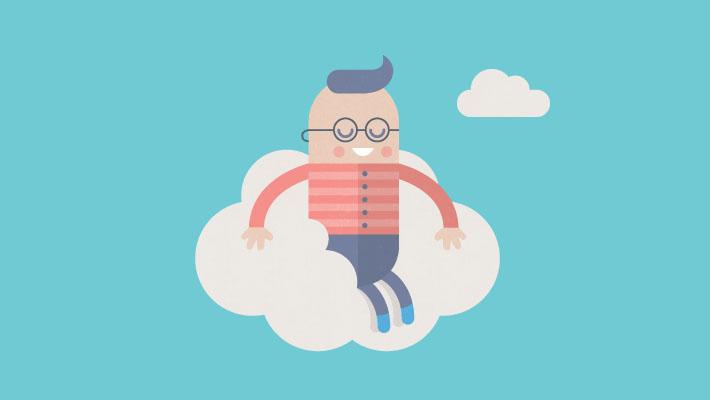 Taking 10 minutes to meditate daily has been shown to reduce stress, anxiety and rumination, increase focus and working memory, while also increasing cognitive flexibility and the ability to create stronger relationships.

So, what if you can't shut your mind off, or are having trouble finding 10 minutes in your day? First off, it's completely OK to have your mind wander while doing the exercise. The importance is that you notice it, don't let it affect your mood and focus back on the breath. It takes time and practice to be able to quiet your mind for 10 minutes. If finding time is a setback, try putting a timer on your phone when you know you can have at least 10 minutes alone in a quiet space. Try in your driveway before you go into the house, or before you go into work. You will see the cognitive difference in your day if you begin mindfulness meditation.

Remember the old adage, 'Don't knock it till you have tried it'?  Before deciding you can't do it or don't have time, commit to Take 10 for 10 days.  Even the busiest among us can find 10 minutes if we set our mind to it.  Treat yourself and your mind to 10 minutes of headspace.

visit: headspace.com >