While long overdue, I wanted to share a little dish that is sure to warm the soul and give you the fuel to power through those first few workouts of 2013.  This soup will make a great post-workout dish, as well as something to keep you warm on these cool and damp northern California nights.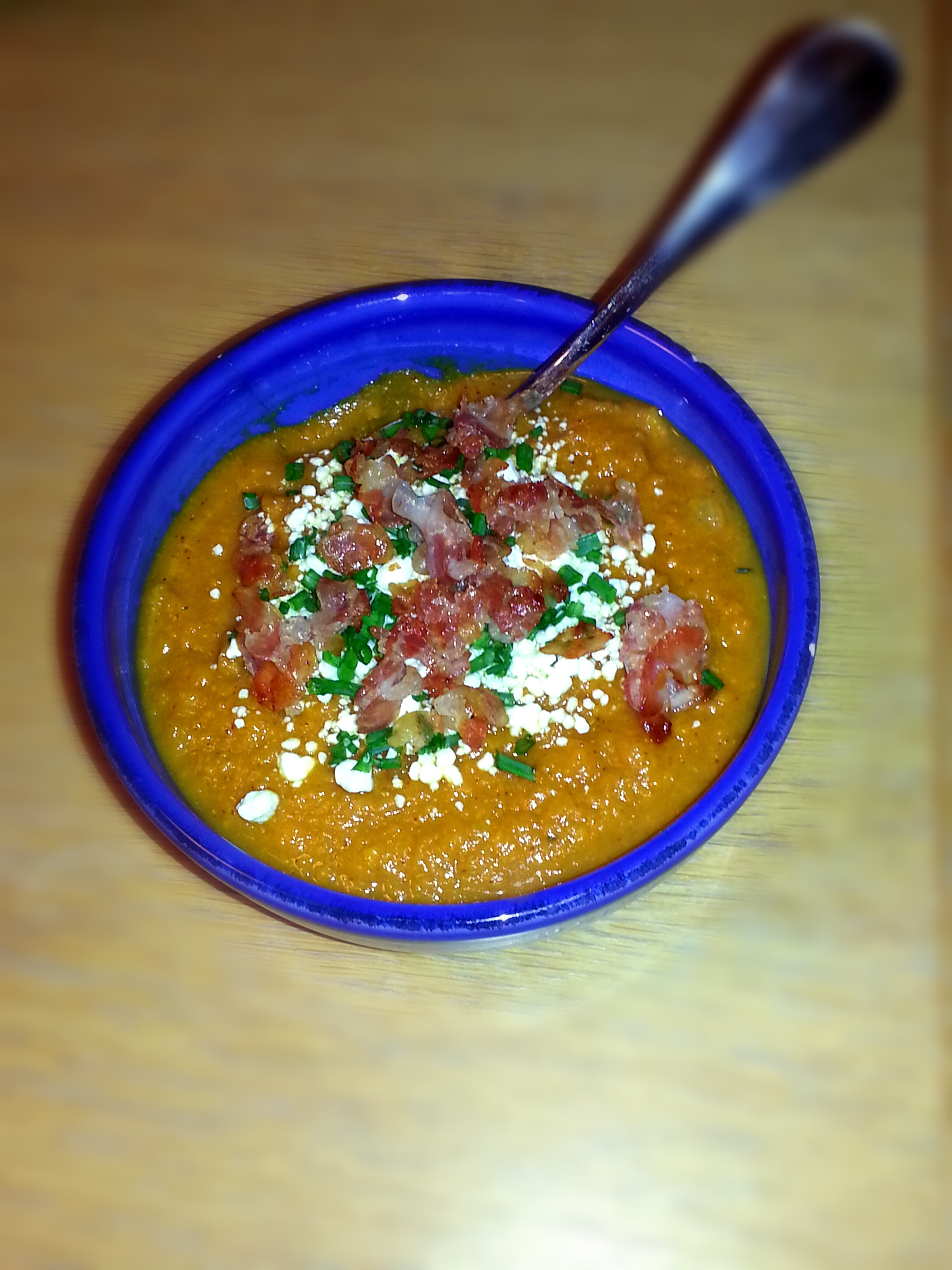 Sweet Potato Butternut Squash Soup
1 medium butternut squash
3.5 lb. sweet potatoes
3 c. chicken or vegetable stock (I used my own homemade pork stock)
1/2 c. half-and-half
1/2 onion, minced
2 cloves garlic, minced
3 T. coriander
1.5 T. curry powder
1 T. chili powder
Panchetta for garnish
Salt and pepper to taste
Soft goat cheese for garnish
Chives for garnish
Preheat oven to 425 degrees F.
Cut squash in half and clean out seeds.  Place face down on a foil-lined baking sheet.  Place whole sweet potatoes on the same sheet.  Roast until squash and potatoes are soft, approximately 45 minutes.  Once cool to the touch, remove skin and place the flesh in a large soup pot.  Add stock and half-and-half.  Stir until incorporated.
Add onion, garlic, coriander, curry, and chili powder; bring to a simmer, and maintain for 10-15 minutes, stirring often.
In a small saute pan, cook panchetta over medium-high heat until done, approximately 5 minutes.
Using an immersion or traditional blender, puree soup until smooth.  Salt and pepper to taste.  Garnish with soft goat cheese, chives, and cooked panchetta.
Serves 6

Cooking note: goes great with grilled meat.