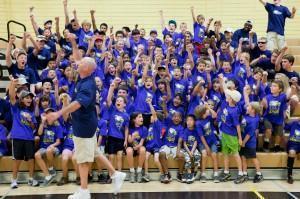 In our efforts to build up the leadership and health of our youth, FIT has partnered with Bald Eagle Summer Camps. FIT trainers will be coaching at the summer camps every Wednesday starting at 9:20am. Summer camps run every week from the week of June 11th to July 18th (except the week of July 4th).
What are Bald Eagle Summer Camps?
Good question. Bald Eagle offers 3 unique Summer Camps on one location, and in each venue the Positive Coaching Alliance message is taught and modeled.  Parent Testimonials rave that Bald Eagle Camps is one of the best summer experiences you can give your child.
What will kids learn at Bald Eagle Summer Camps?
Campers learn what it means to be a Triple Impact Competitor, making the most out of themselves, being a great teammate and having a positive impact on the game and community around them.  Every coach at Bald Eagle is a Certified Double Goal Coach through PCA, creating a camp culture that is rich with encouragement, inclusion and passion to be your best.
Parents have three camps to choose from:
CAMP 1: Summer Sports Camp (1st-8th graders)
Campers participate with their team in the morning in our non-traditional inclusive yet competitive games
Afternoons are traditional activities such as swimming, basketball, volleyball, hockey, whiffle ball, frisbee golf, arts & crafts, indoor Activity Arcade, kickball, flag football and many, many more.
Our message on how to be a great competitor is emphasized throughout.
CAMP 2: Basketball Summer Camp (3RD-8th)
Basketball campers will walk away with improved skills and a deeper passion for becoming their best.
Skill development stations, Fundamentals,  Fun Competitions, Game Play
Free Choice period where they get to spend 45 min doing any activity across our Sports Camp like swimming, etc.
Daily Emphasis Skills, guest speaker, tournament games or competitions.
Our message on how to be a great competitor is emphasized throughout.
CAMP 3: Jr.High Leadership Camp "NEW!" (7th-8th)
How important is it for a young person to have clarity on the type of person they are aiming to become while they trudge through the onslaught of peer pressure in Jr. High and High School?
Bald Eagle Camps founder, Bob McFarlane, is a Special Ed & PE teacher at Los Altos High School.  He is also the Head Varsity Basketball Coach and the founding Advisor of the Fellowship Of Christian Athletes (FCA) Club at LAHS.  This camp design serves a broad range of camper strengths, skills and interests.
The benefits from our Leadership Camp are immeasurably positive because it teaches and tangibly develops the skills to support a successful transition to being a young adult.
Visit www.baldeaglecamps.com , or call (888)505-2253 for more info.
You can also email Danielle Durante at danielle@focusedtrainers.com