Every athletic competition tells a story of heroic feats and heart-breaking setbacks, all in the face of tremendous adversity unfolding moment-by-moment, right in front of our eyes.
And this year's CrossFit NorCal Regional competition was no different for coach Rick and his FIT contingent of supporters.
Rick had already overcome a number of injuries that prevented him from training at full tilt all year round. Rick made no excuses and came into last weekend's competition quite confident that he could make another run at a top ten finish.
The competition opened with a classic CrossFit workout affectionately named "Diane". Rick had to perform twenty-one deadlifts at 225# followed by twenty-one handstand push ups, then fifteen of each, then nine of each as fast as possible. Battling fatiguing shoulders, Rick finished with a time of 5:30 to start off the competition in 32nd place.

Later that day, in the second workout, Rick rowed 2,000 meters, then did 50 1-leg squats, and then 30 hang cleans at heavy 225# in only 16:00 to move into the top 20. With a solid first day in the books, Rick was optimistic that he could continue to climb the standings on Day 2.
Rick came out of the gates firing on all cylinders Day 2's first workout. Snatching a 100# dumbbell and sprinting a total of 400m, Rick's time of 4:08 put him in 5th place in that event. The second event of Day 2 proved to be a treacherous test of mental and physical stamina and endurance. Completing a circuit that total 150 weighted squats, 120 pull-ups, and 90 push presses just under the time cap of 17:00, Rick sat in 16th place at the end of Day 2.
Day 3, the final day of the competition, was set up to test the mettle of even the most seasoned athlete. The first event of the day involved testing the athletes' heaviest snatch. The catch was that they had to move up a ladder of barbells beginning at 155#, moving up 10# each step on the ladder. In between each progressively heavier barbell, Rick had to perform 20 double-unders with a jump rope.
Rick had warmed up to a comfortable 210# snatch in the warm-up. Then had to wait nearly 45 minutes before he could begin the ladder.
On the first snatch, a mere 155# that Rick could do in his sleep, he felt a sharp pain shoot down the side of his leg.
Rick had re-aggravated an old injury. He had torn a muscle in his quad.
With his back against a wall, there still was not a single hint of quit in Rick. He managed to eek his way several lifts up the ladder, but at last failed to snatch 185# within the time limit.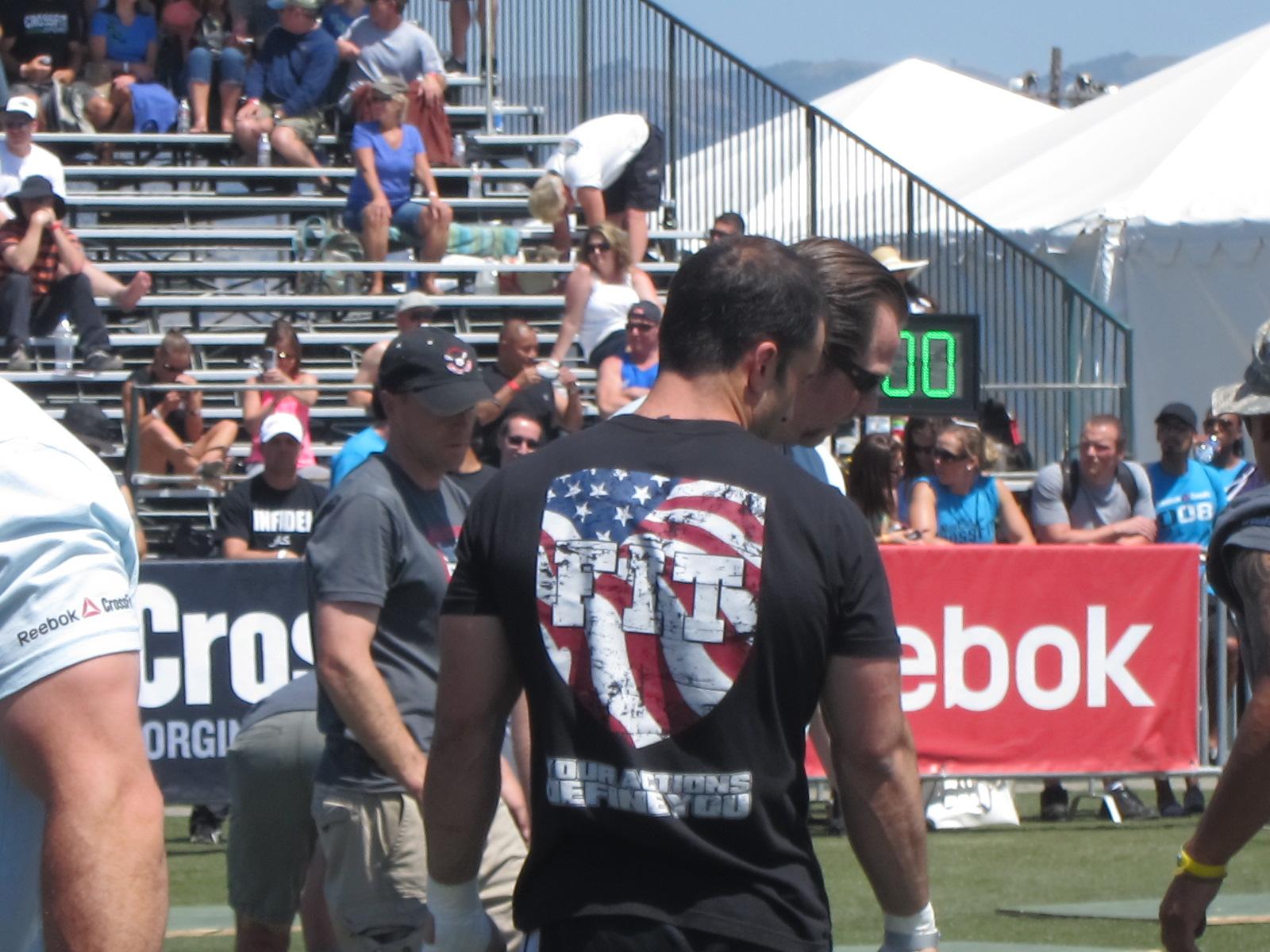 FIT's fan contingent watched Rick battle his competitors, the workouts, and himself all weekend. And while Rick came away from the weekend disappointed to be knocked out of the competition by injury, his supporters were amazed by the tremendous heart, tenacity, and grit Rick put on display.
We're proud of you of the way Rick represented FIT and CrossFit Los Altos with such class and poise.
And we look forward to another epic performance next year in 2013.