Just For Kids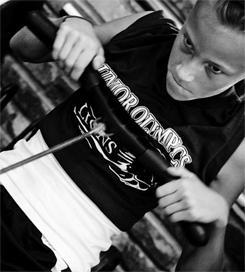 CrossFit Kids workouts consist of constantly varied, functional movements that deliver a fitness that is broad, inclusive and general and scaleable for any participant at any level. The functional movements in the CrossFit Kids program involve exercises that are fundamental to all things that kids need to do when they play-pull, push,run, throw, climb, lift and jump. All of the movements are taught safely and effectively under the close supervision of thoroughly trained CrossFit Kids Trainers.
FIT @ School
FIT's physical education program is half hour sessions for grades K-3 promoting and developing overall athleticism in a safe, functional, fun, professionally supervised environment.  The program combines different motor skills and movement patterns for all skill levels and physical abilities using body weight calisthenics, gymnastics, and weightlifting elements.  Using these elements, the students will see improvement in these fitness domains: endurance, strength, speed, power, stamina, agility, balance, accuracy, and coordination (courtesy of CrossFit, Inc).  The program enhances interpersonal and social skills; increases self-confidence, responsibility and decision-making as well as teaches the students how to work together as a team.
Cost: Please call 650-947-9831 or Contact Us for details.
Structured Recess Activities
FIT's structured recess activities are designed for grades K-6 promoting and developing physical activity in a safe, functional, fun, professionally supervised environment.  FIT instructors facilitate structured activities or games to promote better, more efficient activity during recess.  Some examples of activities/games would be: obstacle courses, kickball, dodge ball, basketball, red light/green light, etc.  The program encourages the students to work together as a team, enhancing social skills, self-confidence, body awareness, responsibility, and decision-making.
Cost: Please call 650-947-9831 or Contact Us for details.
Sports Performance
A class for ages 14 and older that works on the key components of fitness- strength, power, agility, flexibility and endurance.  All workouts are performed in a supervised, fun and safe environment.  This class is intended for participants looking to improve their abilities for their particular sport or for those who are looking to improve the overall fitness and athleticism.  Classes are co-ed and all exercises are scaled to suit individual partipants' abilities.